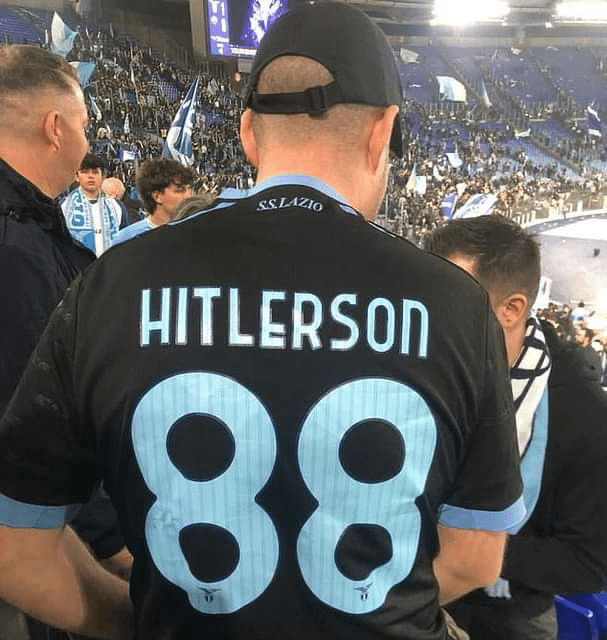 March 23, 2023
Roman soccer organization S.S. Lazio has slapped a lifetime ban on a fan who was wearing a pro-Hitler jersey to Sunday's match against Roma at Stadio Olimpico, according to several news reports.
The fan wore a jersey with the name 'Hitlerson' on the back, and the number 88 beneath the lettering. The 88 is an abbreviation of 'Heil Hitler' in neo-nazism culture.
This is not the fan's first infraction at a football match. According to the Italian news-outlet ANSA, the same man stormed the field in a so-called "pitch invasion" during a match in 2009.
The fan will face charges under an Italian law that prohibits gestures, actions and slogans which promote Nazism or Fascism.
If found guilty, he could be fined 6,000 Euros ($8,924.15) and face up to 18 months in jail, news reports said.
Two other people also received lifetime bans for engaging in Roman salutes associated with fascism during Sunday's match.
Lazio has said the "three fans have nothing to do with the club."
Lazio fans have a history of being associated with discriminatory behaviour that has seen the club sanctioned in the past.
Lazio and Roma are known to have a bitter rivalry.
The match on Sunday saw three red cards distributed to players.
Lazio came away with a slim victory, edging Roma 1-0.