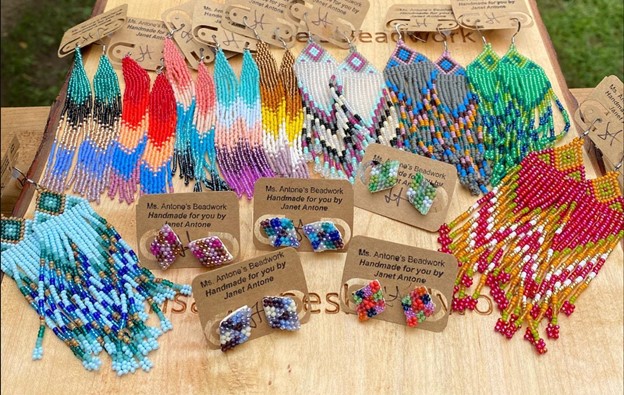 A beader from Oneida Nation of the Thames with nearly 13,000 Instagram followers says she wants other Indigenous women entrepreneurs to know their "dreams are worth chasing."
Janet Antone, 33, the founder of Ms. Antone's Beadwork says she aims to support fellow female Indigenous entrepreneurs on a smaller scale.
"My main focus has always been connecting with my fellow Indigenous people and creating a safe space," Antone said. "I let them know that they're valid and their dreams are worth chasing."
Antone started her business in 2013, but says the pandemic helped her connect to her community by forcing her to build a website and fine-tune her social media channels.
"COVID moving everything online turned out to be a blessing because I was able to make my business more accessible across Turtle Island and make connections with a greater variety of artists," Antone said. "I've been proud of the community of female Indigenous makers I've been able to build because of my following."
'Our purpose isn't resiliency and trauma'
On top of the regular challenges of owning a business such as maintaining a website and filing taxes, Antone explained that there's an "overarching racial challenge" for her and her entrepreneurial friends.
However, she said, while she and others do experience day-to-day microaggressions – thinly-veiled racist comments and slights – she doesn't want Indigenous women to be exclusively defined by their injustices.
"I want to keep reminding both the public and my Indigenous entrepreneur friends that our purpose isn't our resiliency and our trauma – rather it's our love for our family and community," Antone said.
"Sometimes people focus too much on the fact that we as female Indigenous entrepreneurs are succeeding in-spite of our setbacks, when in reality we are able to succeed because of the love of our people and culture."
Antone's advocacy isn't the only initiative in the London area working to support womenIndigenous business owners.
Agencies aim to reduce barriers for Indigenous women
TechAlliance and Fanshawe College Corporate Training Solutions (FCCTS) have partnered to create a program designed to educate and empower entrepreneurs from marginalized communities.
Elevate Entrepreneurship aims to reduce the access barrier by providing necessities such as laptops and Wi-Fi, and all without a cost. Once set up, participants go through a series of modules that teach them various skills, such as finance fundamentals and problem solving.
The training module Miller developed is centred around business strategy and leadership. One of her approaches was to reach out to various BIPOC representatives and have them tell their stories in a series of video vignettes.
"I felt it was important to reflect that methodology for the participants so that they would see and understand and feel comfortable with that sort of approach to learning," she said. "I think it's been specifically beneficial for Indigenous women in the program to hear the stories of people in that format."
Open to anyone in Southwestern Ontario
The first round of Elevate Entrepreneurship began in January and is open to anyone in Southwestern Ontario. Its goal is to help 60 entrepreneurs gain the knowledge required to build their business alongside experienced faculty and advisors.
Part of how they do so is by using the funding they receive from the Ontario government to tackle the barriers many innovators face who are Black, Indigenous and people of colour.
"Access is always a barrier," explained Candace Miller, senior manager of Strategic Initiatives & Business Development at Fanshawe. "If we can help tackle barriers like that, then we can improve employment rates for underrepresented communities in Ontario while addressing the gaps within the landscape."
According to Statistics Canada, racialized women had an unemployment rate of 9.6 per cent in 2016, compared to the non-racialized unemployment rate of 7.3 per cent. 41 per cent of Indigenous women aged 18 and older lived in a food insecure household in 2020.
With the completion of the five-week program, participants receive digital badge recognition from Fanshawe through an e-certificate. The program only has funding to run until March 2023, but Miller is hopeful its success will inspire the government to fund more opportunities for racialized individuals.
Antone says she'll continue supporting fellow Indigenous makers through her pop-up market. It takes place online due to COVID but features her own beadwork and creations by other female Indigenous entrepreneurs. She was driven to organize it after other artists in her community started reaching out to her with questions and concerns about building their own business.
"I realized my success felt inaccessible to them," she said. "So I wanted to create a safe space for them to grow."