By Michelle Both | Friday, April 1, 2022
Despite chilly temperatures and falling snow, London autism advocates pedaled for 13 hours Friday as part of a province-wide 'spinathon' to bring attention to the long waitlist for Ontario's autism program.

The time – 50,000 seconds – represented over 50,000 children on the province's waitlist for core services such as speech language pathology, occupational therapy, mental health services and applied behaviour analysis.

"That's 50,000 kids and families waiting for necessary therapies and services," said Jessica Ashton, a London mother whose seven-year-old son has been on the waitlist for five years. It has doubled since she signed up, she said.
The stark numbers motivated Ashton to spearhead the event with the Ontario Autism Coalition, where she is a board member, to kick off the first day of autism awareness month.
"There are parents out there who cry everyday," Ashton said. "This is unacceptable. Kids can't wait 8 to 10 years for essential services."
Tereasa Muscedere, whose three-year-old son has been on the waitlist for seven months, pedaled for 90 minutes in the morning and planned to continue in the afternoon.

"We know early intervention is so important," Muscedere said. "I can't imagine how severe the outcome is going to be with these kids if they don't get help."
Adrenaline kept her moving despite the cold, she said.
"I think it's better that it's cold outside because it proves how passionate we are about getting these kids therapy," said Karen Wilson, who lent her spin bikes for the event.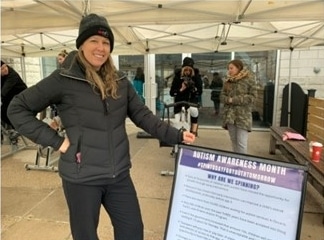 "There is nothing for them to help them get through their regular day," Wilson said. "I can't even imagine what it would be like to not have therapy for my children that truly need it."

Only 645 children are currently registered for core clinical services in the Ontario Autism Program, according to the Ministry of Children, Community and Social Services.
In lieu of services, their records indicate 34,262 have received one-time funding as of February 28. Eligible families received $20,000 for children under six and $5,000 for those six and over.
Ashton said the one-time funding is not enough – the gap in accessing behavioral therapy and core services still remains.
The Ontario Autism Coalition has 14,000 members across the province, she said, many of whom are parents. The event lasted from 8 a.m. to 9 p.m. outside Covent Garden Market.
With provincial elections coming this fall, she hopes the issue will get more public attention.