Josh Goeree, Western Journalism Studio
Feb 4, 2022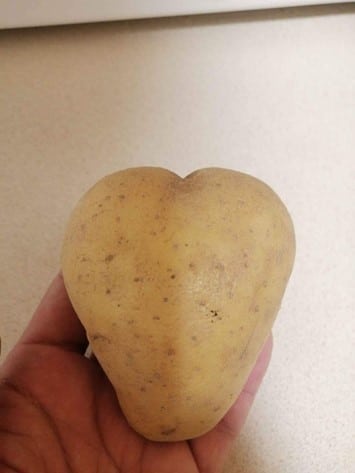 With Valentine's Day just 10 days away, London resident Nima Farasat said he thought he could make a lucky customer happy by selling a potato on Facebook Marketplace in the shape of a heart.
Farasat is selling the valentine root vegetable for $20. After placing the ad on Marketplace on Feb. 3 he received a few responses, but hadn't had any offers, he said a few days later.
"It is just for fun," said Farasat. "I received lots of responses from different types of people. It is very interesting for me."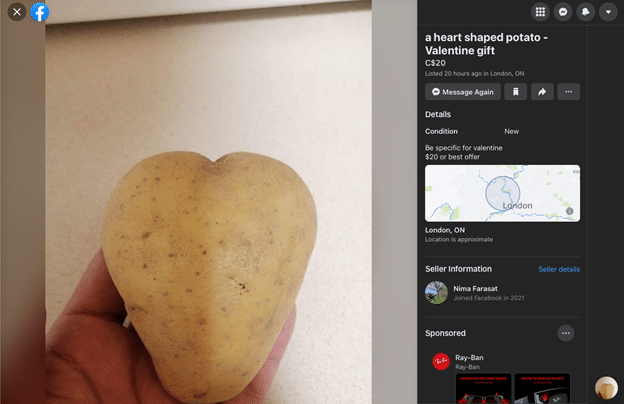 Farasat first discovered the heart one night when he was making dinner. He had bought a bag of potatoes at Loblaws a few days before.
Instead of cooking it, he wanted to see if he could make a few dollars, and get a few laughs using Facebook's online listing destination.
He said he was expecting to keep the ad up for only a couple of more days. When left in darkness and in an area with moisture, potatoes can start to grow sprouts.
If he didn't find a buyer, he planned to give it away for free or keep it for himself.
"I have no idea so far," said Farasat when asked what he would do with the potato if he couldn't sell it. "Maybe I'll make a yummy meal."
If Farasat does keep the potato, he will decide in the coming days if he will have it baked, boiled or mashed.
---