Chelsi Mackie, Western Journalism Studio
Feb 4, 2022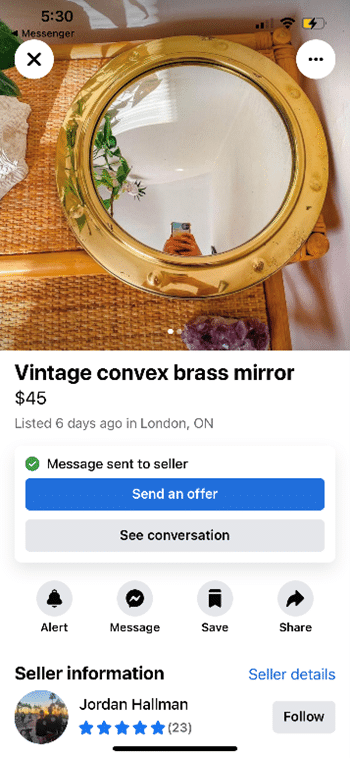 If you are looking for vintage décor pieces to elevate your home, The Little Mushroom Vintage is the store for you.
Jordan Hallman, the owner of the Instagram-based store, sells vintage décor items like brass, decorative mirrors (as seen in the above photograph) to large ceramic cheetahs and much more.
The mirror she is currently advertising on Facebook Marketplace is just one part of her expansive collection of vintage items up for sale. Before posting the ad, Hallman said she "gave it a really good clean" and conducted research on it to know exactly what kind of item she has in her possession.
"I'll begin by taking a photo of it and then searching the photo for if there's any markings on it," said Hallman. "I find a lot of information from other sellers… just compare to see if anyone's selling the exact same item, see if they have any background info on it."
Hallman said that as time went on, she developed an understanding of the pieces, generally knowing what each marking may indicate, along with specifics like which maker uses what type of glass.
According to Hallman, more and more, vintage décor seems to be appearing on the shelves of major stores like Homesense and Winners, showing that "vintage style" may be on the rise among shoppers.
"Everything just goes full circle, right? Like the 2000s are coming back in, some people are into the 90s trends and some people are into the 70s trends, so it's kind of like a big mixing pot at this point… it always comes back."
Besides reviving trends, another reason for why vintage décor items are increasingly trendy is because of the nostalgic element they bring to buyers.
"I have followers that are like 'Oh my gosh, I had this when I was a kid!' or 'My grandma had this!' so it's really cool seeing that too. I have a lot of people that buy because it's a sentimental thing to them," said Hallman. "It brings them back to their childhood. It's just really nice to see them light up like that."
Interested vintage décor enthusiasts can visit @thelittlemushroomvintage on Instagram to shop from Hallman's collection.