By Amelia Eqbal, Western Journalism Studio
Feb 4, 2022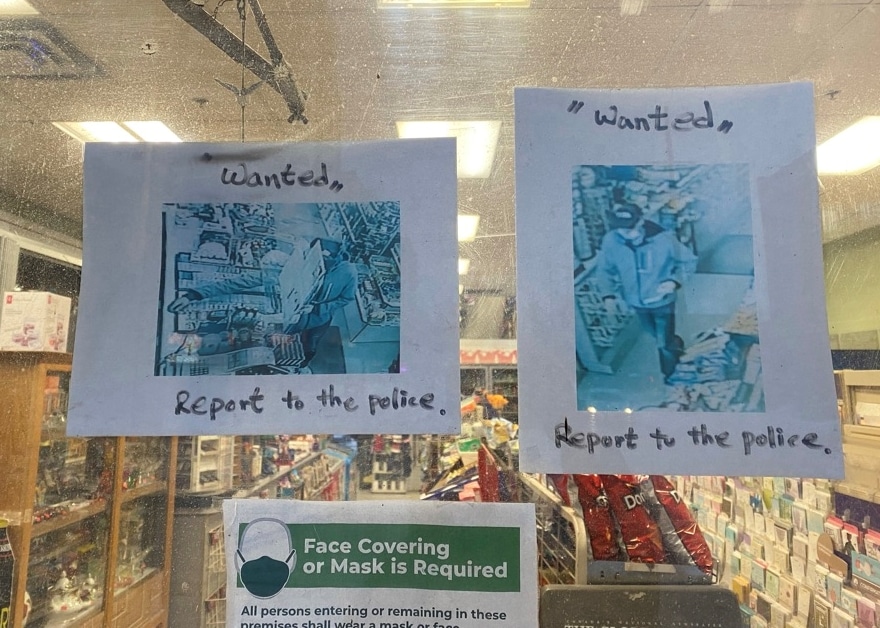 The colour may be faded, but the call to action is clear.
Two homemade "wanted" posters have been hanging on the door of Station Park Convenience Store, a local variety shop on Richmond Street near Pall Mall Street, for almost a year.
The thief pictured, however, has yet to be caught.
"I told him to get out of here before I called the police, and to never come back," says Sun Chung, owner and manager of Station Park Convenience Store.
Chung clearly recalls the day a man stole a $30 lottery ticket from the checkout counter. He says he recognized the man as a customer who had previously come into the store on several occasions.
Despite their weathered discolouration, the wanted posters show a man reaching across the counter to grab a lottery ticket from the pricier side of the display unit, and then exiting the store with the ticket in hand.
It seems the thief heeded Chung's warning, for the store owner hasn't seen or heard from him since.
Chung says he did follow through on his promise to call the police, but that the investigation didn't get very far.
"The police have more important matters to worry about," Chung says.
Afterward, Chung put up the wanted posters using screenshots of footage from his store's security cameras in the hopes of identifying the thief. So far, there have been no new leads.
"A few customers thought they might have seen someone or something," Chung says, "but nothing came of any of it."