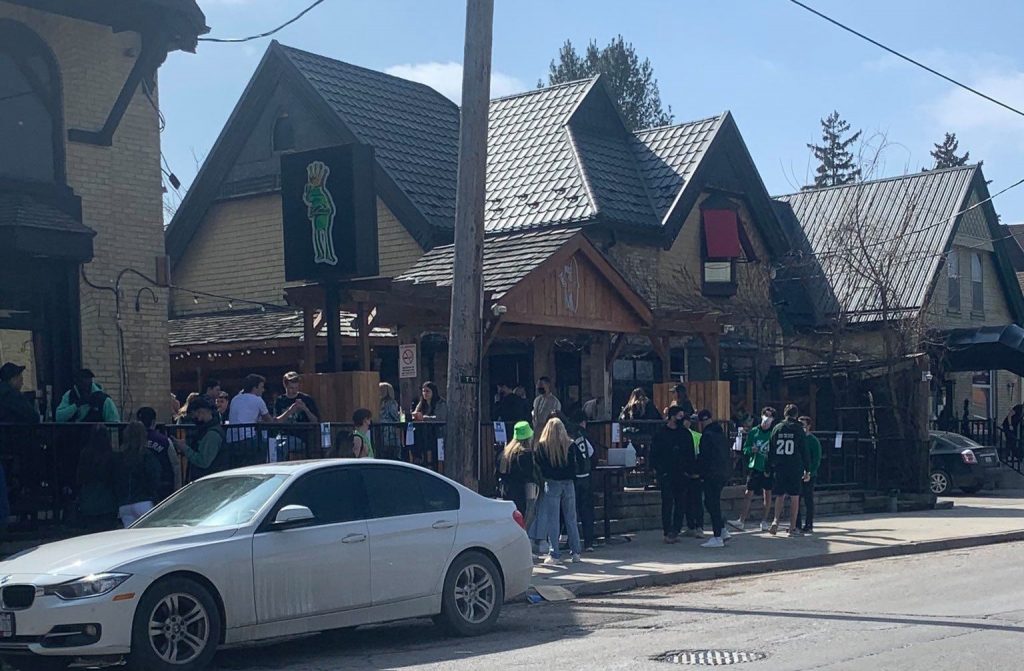 By Jessica Singer, Calvi Leon and Karis Chitty
In years past, St. Patrick's Day was a day in London for busy street parties, day drinking and dressing head-to-toe in green to party with friends.
But a year into a pandemic, London's St. Patty's certainly isn't what it used to be.
Continued restrictions on social gatherings mean emptier streets, smaller gatherings and subdued celebration. Across the city, small gatherings could be seen on people's lawns.
A few kilometres away, students took advantage of the warm March weather, with line ups starting at several bars along Richmond Row shortly after noon. Some wore masks, some didn't.
But in student-heavy neighbourhooods, St. Patrick's Day was shaping up to look much like last year's: quiet.
Late Wednesday morning, a couple of police cruisers rode along Fleming Dr., which is home to many post secondary students and has a reputation for parties — especially when warm weather and special occasions collide.
Nine years after rioters took over London's Fleming Drive on a sunny St. Patrick's Day, attacking police, turning over a vehicle and setting fires, the same street was mostly deserted Wednesday morning. 
The riot in 2012 came after a long, sunny St. Patrick's Day, when partygoers who had been drinking and celebrating for much of the day spilled out onto the street.
In a shocking scene that made international news, many of them later set things on fire and pelted police with bricks and bottles, which resulted in multiple arrests.
Brad Duncan, London's chief of police at the time, said it was the worst violence he had seen in his 32-year career.