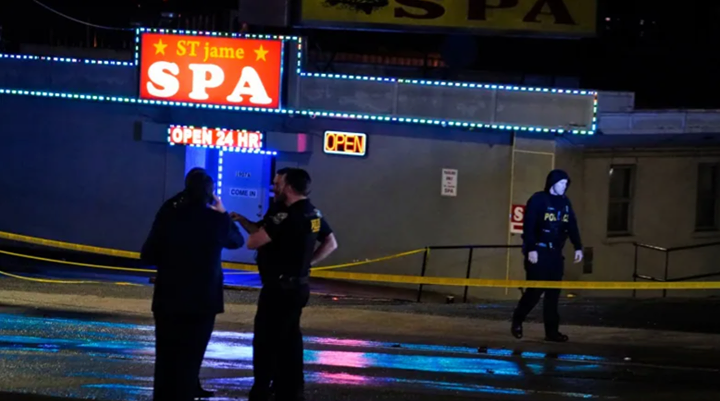 By Kelly Wang
At a news conference Wednesday, Atlanta police provided more details around the triple spa shootings that took place in that U.S. city Tuesday evening. 
The shootings killed at least eight people, including six Asian women and two Caucasians. 
Police say they learned the suspect was on his way to Florida to carry out more shootings when he was arrested.
A 21-year-old suspect reportedly told police he had a "bad day" and a pornography addiction.
The question of whether the attack was racially motivated remains under investigation, but police say they don't believe it was.
Instead, police reiterated the suspect's pornography addiction and his regular visits to such spas prior to the shooting.
"He sees [spas] as an outlet for… something he shouldn't be doing. He was attempting to take out that temptation," said one officer.
Police added the suspect took responsibility for the shootings and claimed the shootings were not racially motivated.
Officers did not have further information on whether the suspect had mental health challenges or whether the weapons he used were legally obtained.
When questioned whether the three spas offered illegal sexual services, the mayor of Atlanta stepped in and said there will be no victim blaming.
Keisha Lance Bottoms added the spas were all legally operating businesses.
The shootings began around 5 p.m. Tuesday at Young's Asian Massage Parlor near Woodstock, about 50 kilometres north of Atlanta.
Around an hour later, police got a call about a robbery at Gold Spa near Atlanta's Buckhead area. When they arrived, three women were found dead from apparent gunshot wounds.
Police then received a call about another deadly shooting of a woman at Aromatherapy Spa across the street.
South Korea's Foreign Ministry said its diplomats in Atlanta have confirmed with police that four of the victims were women of Korean descent.
The shootings come amid a wave of attacks targeted towards East Asians. The number of racially motivated attacks have increased since the coronavirus pandemic.