By Harrison Cook, Western Journalism Studio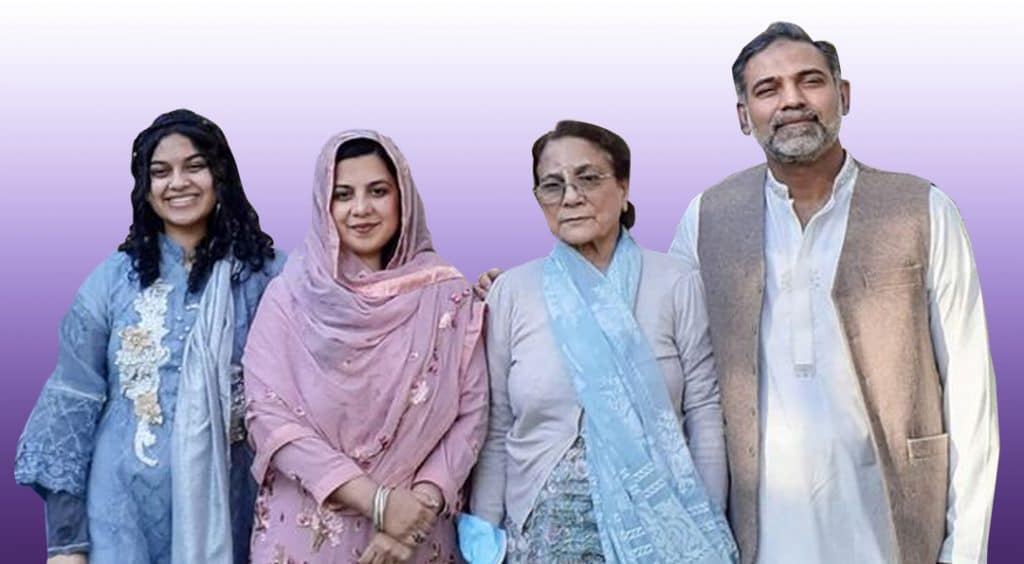 A Toronto artist is leveraging the power of letter-writing to pay respects to members of a London family who were killed in a hate-fueled terror attack.
Asim Hussain, also known as @studentAsim on Instagram and Twitter, has created an online platform for people to write letters of remembrance and support for the Afzaal family.
The #OurLondonFamily campaign is intended to honour the four members of the London family — Yumnah, Madiha, Talat and Salman — who were struck by a vehicle in a hit-and-run last June. Only nine-year-old Fayez survived.
"Just the act of letter writing will keep the memory of the Afzaal family alive, and is an instant action against Islamophobia," said @studentAsim.
Hoping to receive many letters by the first anniversary of the attack, the letter-writing is part of @studentAsim's overarching campaign to curb Islamophobia through outreach in the form of storytelling on his platform, islamophobia.io.
'The power of a story'
"I think the power of story is the way we can understand each other," said @studentAsim.
The website aims to help dispel stereotypes by offering the opportunity to read and write about authentic Muslim experiences, he said.
The heartbreaking attack shined a spotlight on Islamophobia and drew international headlines. In the days that followed, an estimated 10,000 people turned out to show love and support to the Muslim community at a vigil outside the London Muslim Mosque.
@studentAsim expressed frustrations with the idea that the attack on the Afzaal family be labelled as a tragedy solely among the Muslim Community.
'Fayez . . . You are loved' letter-writer tells survivor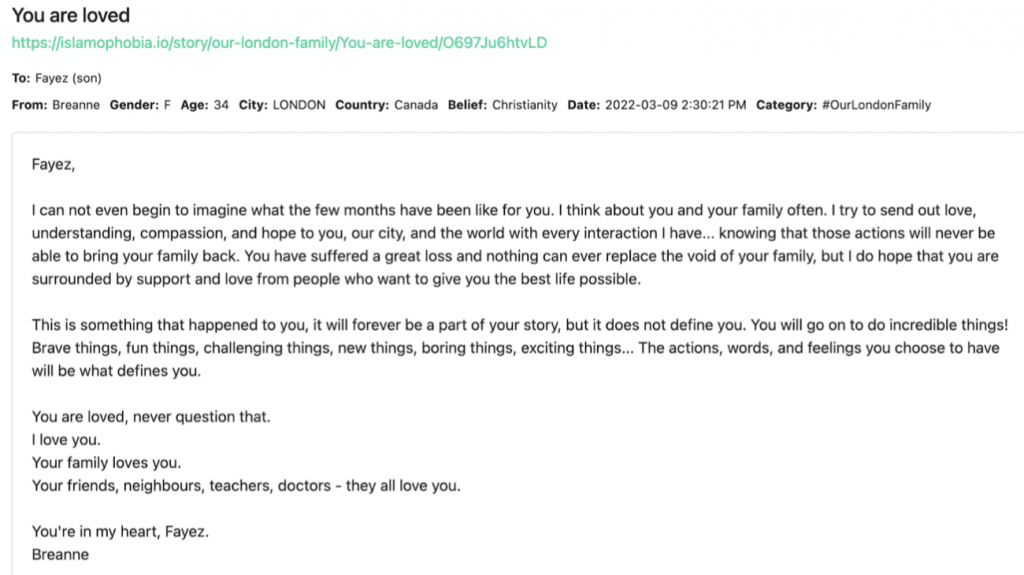 "Why is this just a Muslim issue? I thought this was a Canadian tragedy," he said.
For those who were moved by the tragedy but didn't know how to help, @studentAsim said writing a letter is a place to start.
"I think this is a chance to say what you wanted to say on that day but didn't," he said.
"There's a lot of invisible voices in this country right now. They might not say anything, but they're grieving and they're feeling emotional."
London councillor calls for change
Coun. Mariam Hamou said she supports the #OurLondonFamily letter-writing campaign as a way to take action.
Hamou is the first Muslim woman to sit on the London city council and says she believes Islamophobia is ingrained in Canadian culture and institutions.
"If people actually believe that there's no racism in Canada, then I think that they need to come and hang out with a Muslim person for a day to see kind of what sorts of things they face," Hamou said.
Hamou said the provincial and federal government need to address Islamophobia.
She also said she encourages celebrating one another's culture.
"My favourite type of work is not the policy work," she said. "It's the celebration of each other's culture through food, dance and achievements."
Those looking to send their support to the Afzaal family or share the campaign are encouraged to visit https://islamophobia.io/ourlondonfamily