By Monika Sidhu —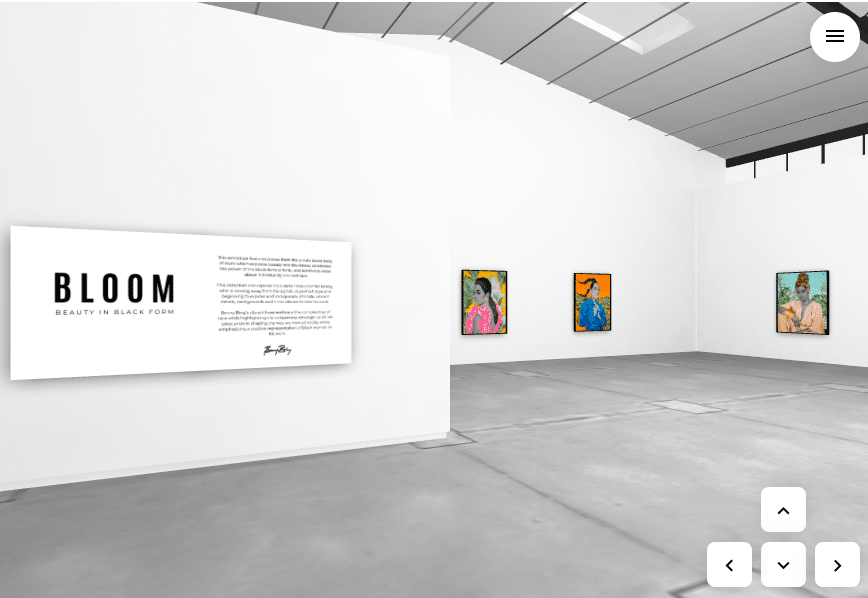 Benny Bing's artwork has shifted over the years, but the portrait artist's commitment to empowering Black women has always remained strong.
The Toronto-based, Nigeria-born artist has unveiled his latest work after a 10-month break and "creative block." Premiering as a two-month virtual exhibition, Bloom is the fourth and newest installation to Bing's 'Women of Colour' collection.
"I really wanted to tackle what beauty and Blackness mean to these women, and what Blackness and beauty mean because that's a very heavy topic on different levels," he says.

In the 'Women of Colour' collection, Black women are his main subjects and Bing has different conversations within each exhibit. The first instalment, Adelani, features portraits of the subjects in headwraps; the second, Women of Colour, showcases their natural hair; and the third, Colourblind, attempts to discuss and confront 'colour-blindness' through the use of a unique colour palette.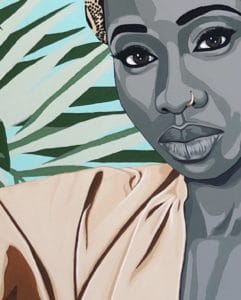 In each exhibit, Bing creates a space for the representation of Black women in the art scene and pays homage to their natural features. "A lot of what I've been doing is highlighting, especially my work, a lot of the features that we have been mocked about in a very racial way, our full lips, our broad noses, high cheekbones, our hair," says Bing.
"We've been forced to believe in this Eurocentric definition of what beauty is, right? And if we don't fit into that box, then we're not considered beautiful humans," he says.
"It's important to understand first of all who created that box. That box was created as a form of oppression. How do we start to think without the influence of that theory?"
Bing recognizes that there has been a shift from mocking Black features to mimicking Black features in recent years yet Black women still get the short end of the stick even while their features and style are the ones being replicated. In other words, appropriating Black culture has become all too common.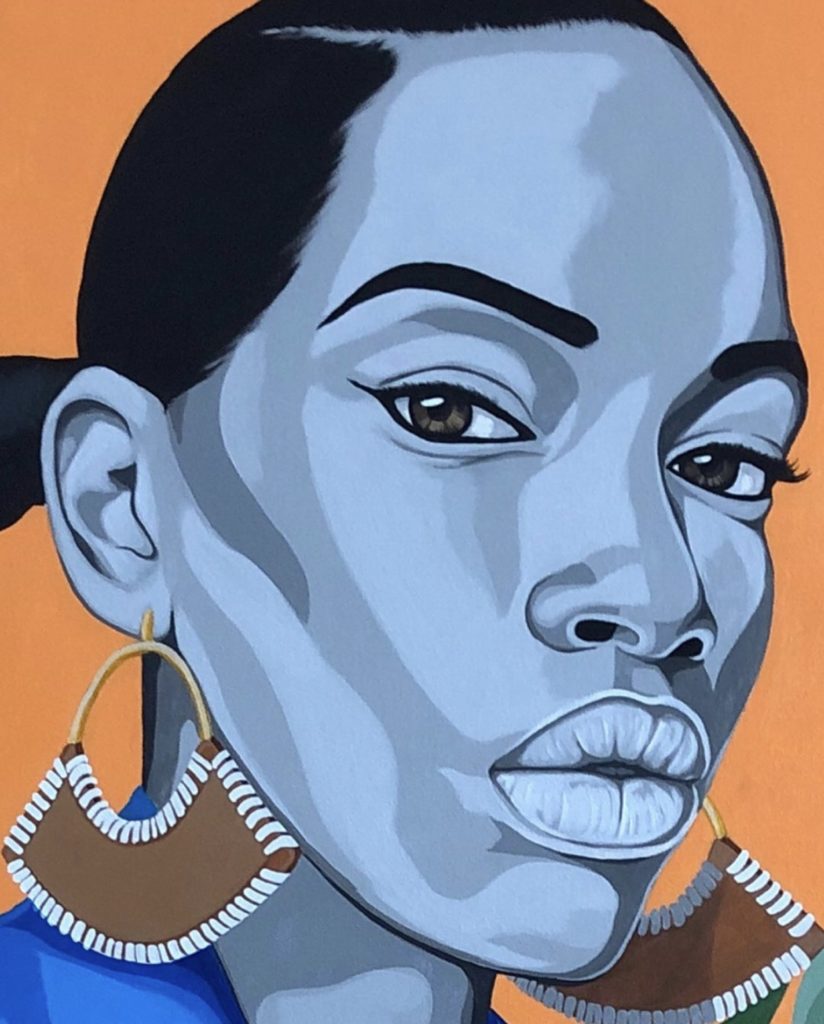 Bing's latest exhibit highlighting the strength and beauty of Black women comes at a time that many around the world start to examine their anti-Black biases in the wake of the killings of Ahmaud Arbery, Breonna Taylor, and George Floyd.
With Bloom, Bing says he wanted to double-down on the conversations of his previous work, while also acknowledging his development as an artist.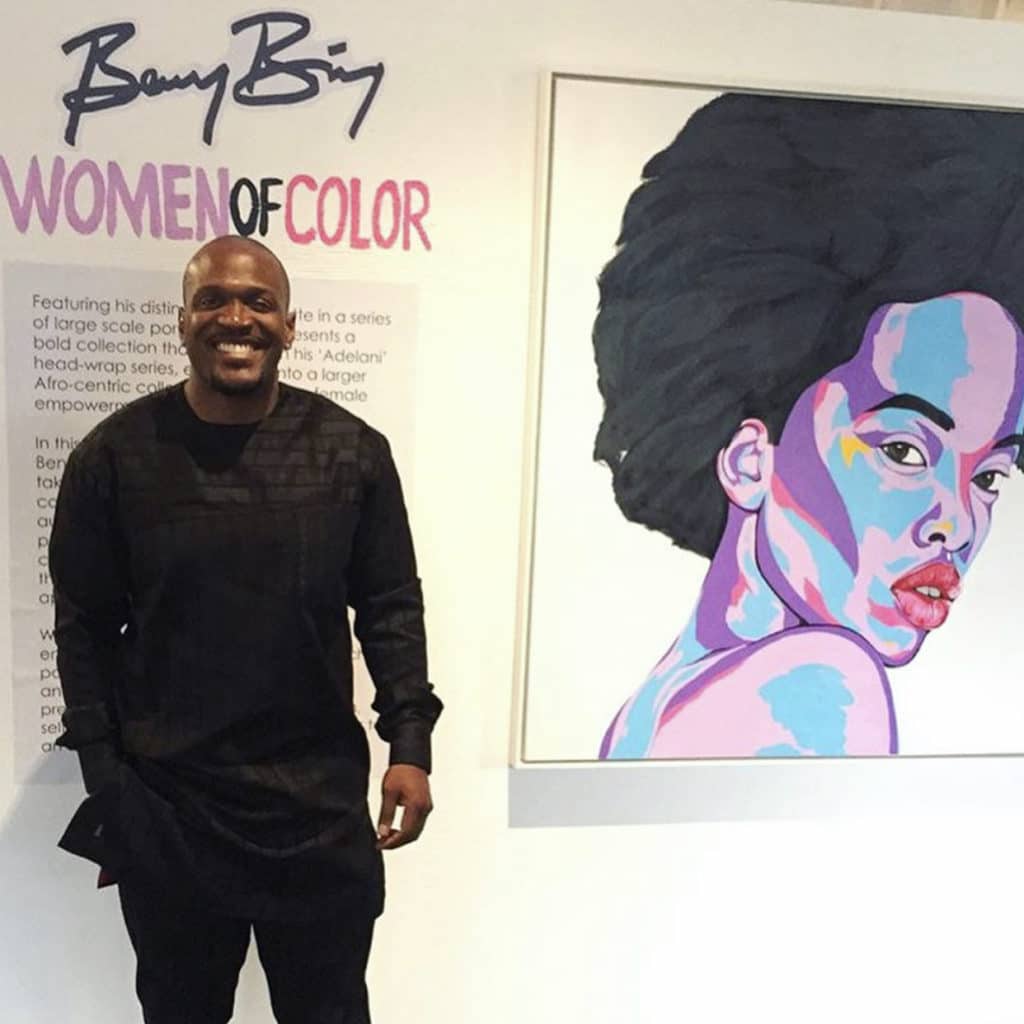 "I wanted to add something that would symbolize growth for me as a creative and also the blooming aspect of these women almost as a flower," says Bing. "The new work, you're going to notice, has a lot of plants in the background, so it's almost as if they are a flower in the middle of these plants: they're blossoming and blooming. So that's the symbolism on why I titled it 'Bloom'—based on the images and also based on myself, my career."
Bing says Bloom was supposed to be a transition from his usual style of colourful and vibrant skin-tones to a monochromatic body of work which focuses on one colour.
"I decided to go with grey to kind of highlight the Blackness of the subjects and then take all that colour that's always been in the images, which are normally on a white background, and use those images elsewhere in very colourful fabrics and clothing, [and] backgrounds."
Photo of Benny Bing at his 2018 Women of Colour exhibition. Via Instagram @bennybing
For many of the subjects, Bing asked them to create an audio recording explaining what beauty and Blackness mean to them to accompany their pieces. He said it was important to allow the women in his portraits to speak for themselves and their experience.
"I will never define what beauty and Blackness means to a Black woman. Never. Like I would say, I'm just an instrument. I'm just basically being used to convey this message. But really these women are the main characters, and they should be speaking for themselves," says Bing.
Sheronna Osbourne, a Toronto-based producer, actor and creative was featured as one of the first paintings Bing created. She said being asked to speak to beauty and Blackness was something she had to take time to process.
"It was an honour to be asked the question 'what does my Blackness mean to me, what does beauty mean to me,' I really had to sit with that question to really find that answer because no one has ever asked me that before, truthfully," she says. "I have these conversations with friends and family all the time but to be able to put it out there for the world to hear was really humbling and I was super grateful to be part of it that way."
For Osbourne, the work that Bing is doing is crucial in many ways. She says he reached out to her because he acknowledged that she was an artist with a budding success story and he wanted to capture that. Osbourne says that she's not only happy to be part of Bing's journey as an artist, but she's happy to be part of the creation of space for Black creatives. Osbourne, who runs her own production company known as Crossfield House Productions, says she employs roughly 80 per cent Black women and that creating space is something she passionately believes in.
Portrait of Sheronna Osbourne from the 'Bloom' exhibit. Via BennyBing.com/Bloom
She also stands behind Bing's message of uplifting the voices of Black women.
"It is so important of course, timely as well, but this is not new to Benny; this is something he has always done in his art which I appreciate for sure," she says.
"My Blackness is my superpower, and beauty is a way of life to me," she says in her audio clip. 
Bloom is available on Bing's website. Visitors can explore the virtual 3D gallery independently or choose a guided tour. Even though it's socially distanced, the opportunity to lose yourself in Bing's work is just as real as if it were in person.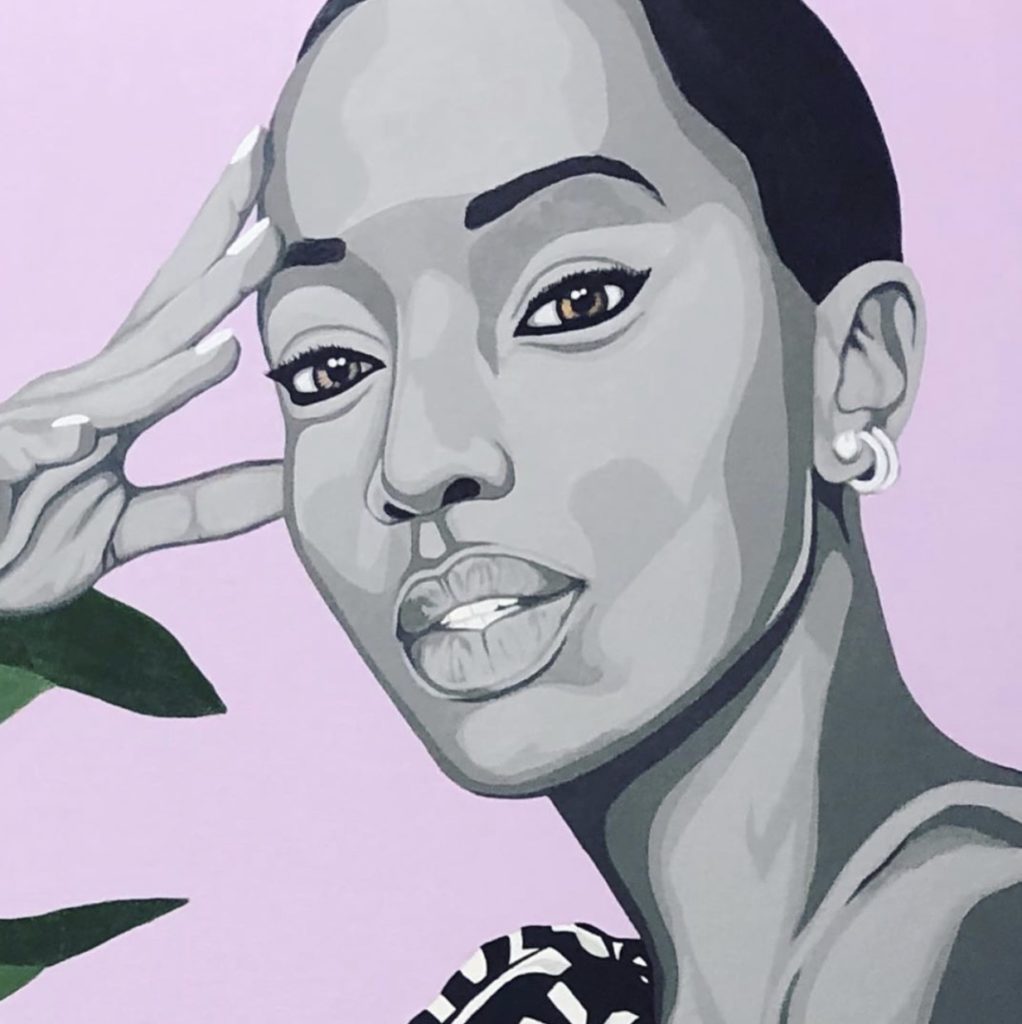 While the fourth installation was supposed to be the last in the collection and intended to bring 'Women of Colour' full circle, that's not quite what Bing's creative mind is telling him at the moment.
"I think what's happened now is the series is telling me 'No, this is not the completion. It's more like a continuation of the series,' " says Bing.
Bing's continuing work doesn't end at representation for Black women in his art—he also hopes to see better representation within the industry. He notes that one area where the city falls short is the artists who actually receive backing by established Toronto galleries— in other words gallery representation. Artists who have representation from a gallery are able to regularly display their work and are therefore more accessible to the general public and buyers. Artists who do not have representation are basically entirely dependent on themselves and have to find their own ways to get their name out into the world.
The Toronto art scene is not representative of the diversity in the city itself, he says. Bing has received notoriety for several reasons including: commissions for celebrity names such as Dave Chappelle and The Weeknd, his partnership with the Daniels Corporation, and he also serves as a board member for the Toronto not-for-profit Artscape. He still does not have gallery representation.
Another Toronto-based artist, Ibrahim Abusitta, conducted some research of his own and found that out of 18 galleries and 454 represented artists, 10 were Black, two were Indigenous, 42 were POC and 177 were women.
"I was hoping to inspire others to look into their own communities and institutions. The work is hard and needs many to come together to address these concerns," says Abusitta.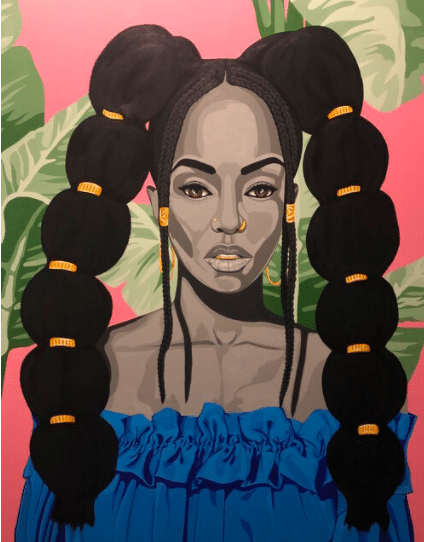 Reflecting on Abusitta's research, Bing says the numbers are shameful. He urges galleries to look at their roster and think about how they can better represent the city of Toronto.
Bing says he does not want to see galleries simply look for token Black artists; he wants them to understand the message behind each artist's individual work. Even though Bing isn't represented, he has confidence in his message and its demand in Toronto and beyond.

"I'm more about action. I think we've passed the conversation part," he says. "Put your money where your mouth is and let's move forward."