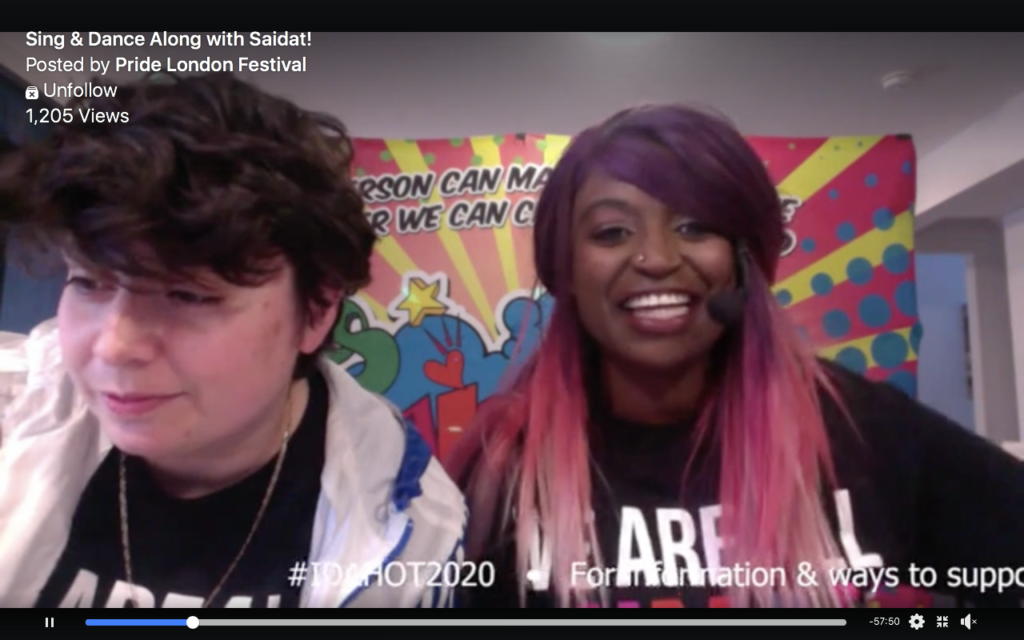 By Mira Williamson — Pride Month is normally a time for LGBTQ+ folks and allies to gather and celebrate. But COVID-19 has definitely rained on this year's parade in cities across North America.
Still, the show of support will go on, say Pride festival organizers who are taking steps to move as many events and activities online as possible.
In London, Ont., that means people will still get to see the popular Drag Queen Storytime—it will just have to be on their screens instead of at the central branch of London Public Library, said Stephen D'Amelio, Governance and By-Law Chair of London Pride's board.
"We are working towards continuing to move a lot of the events that we normally see in a festival setting online," he said. "Not all events unfortunately will be able to be online, but we're very happy with what we are hoping to try to present."
The change won't be easy for those who look forward to in-person festivities.
"It's actually very emotional because I'm used to hugging everybody, giving people kisses on the cheek, talking to people, play-fighting with people, bumping into them," said Katu Azzya, who is also known as drag queen Mz. Affra-Tighty.
Azzya was supposed to host a fundraiser for a youth charity at this year's Pride London Festival. However, he's not a "computer-fabulous person," and worries that the fundraiser might be postponed.
"If I can't host the event, I also can't raise the money for the kids," he said. "And that breaks my heart."
Across Canada, Pride organizations are facing similar challenges as they work to do the best they can in a pandemic.
Pride Toronto has planned for virtual events all month and is focusing on women in music and BIPOC artists. The organization created a virtual market, where individuals can support local LGBTQ+ artists and vendors who normally would have lined Toronto streets.
Capital Pride has planned to deliver Ottawa's Pride online at the end of August, with the theme "Wherever we are".
Vancouver Pride is still planning to reschedule some of its festivities in the late summer or fall; but has cancelled some events including its largest annual fundraiser, like the 2020 Unicorn Ball.
A historical perspective
The end of June marks the Stonewall Riots' 51th anniversary. Though the event is often seen as a milestone at the start of LGBTQ+ history, that simplifies the movement, said Susan Knabe. Dean of the Faculty of Information and Media Studies at Western University and an associate professor at the Women's Studies department, Knabe has taught courses about sexuality representation in the media.
In a recent interview, Knabe spoke about the 1981 Toronto Bathhouse Raids, which are sometimes referred to as Canada's Stonewall and also known as Operation Soap, where 200 police officers arrested nearly 300 men for being in or operating a bawdy house. Within 24 hours, despite the cold, LGBTQ+ people and allies massed in protest. They started marching from Church and Wellesley, which is now known as an LGBTQ+ neighbourhood called "The Village."
"It was not known as the gay area," said Knabe. "We can see this as a moment where that physical space, it came to be associated with LGBTQ issues and lives and bodies."
Although the LGBTQ+ community had faced police raids and harassment long before years before, the winter of 1981 could be seen as the birth of an LGBTQ+ community in Toronto, said Knabe.
"People really had just had enough," she said.
The raids were a landmark event in Canada because of the visibility they gave to the movement and because the LGBTQ+ community started interacting with the spaces where the events took place, said Knabe.
Despite the pandemic, LGBTQ+ folks and allies will still be able to celebrate community and the adversity they have and continue to overcome—even if the celebration will be online and apart.