By Mira Williamson —
Katu Azzya is a tall Black man. He's not good at basketball. He doesn't look tough.
He's also known to many as Mz. Affra-Tighty.
When he was attacked by three skinheads in downtown London a few years ago, they screamed racial and homophobic slurs at him, he says. No one came to his aid.
But that was just one example of the acts of hate and discrimination the London, Ont. drag queen says he has experienced throughout his life.
"I don't find justice. I'm usually dismissed because of one thing or another. 'Well, you're gay or you're lighter-skinned or you're gregarious, you're a little more flamboyant,'" says Azzya.
Being a member of both the Black and LGBTQ+ communities can be difficult to navigate, Azzya says, and this year is particularly complex with a rise in Black Lives Matter rallies and protests happening during Pride Month.
Azzya says he is often treated differently from others in both communities because of his intersectional identities. He says he does not feel equal.
Whether he's protesting anti-Black racism, like he did Saturday among 10,000 who turned out to London's Black Lives Matter rally, or performing on stage in drag where he uses his platform to play on common misconceptions, Azzya tries to address discrimination.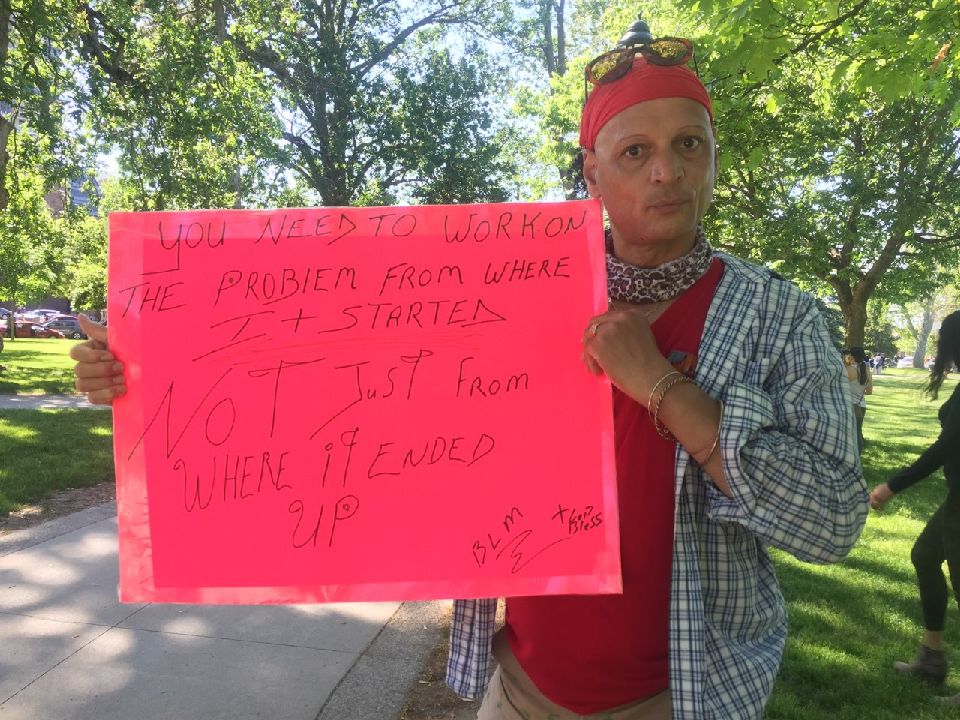 "I have suffered, but I refuse to be the evil," he says. "I am going to continue to speak out."
He says it bothers him that the concerns of Black people are often categorized as "complaints," and those raising them get cast as angry troublemakers.
"You live in Canada. There's healthcare . . .You can travel where you want," says Azzya. "But that doesn't mean you get the job you want. It doesn't mean you can have freedom. It doesn't mean you don't get stopped and checked out."
Over the years, Azzya says he has been stopped and questioned by police, and when he has needed their help, he has felt dismissed. But recently, he has had a couple of civil conversations with police officers.
But it's not perfect and he still feels the need to speak up and fight back on matters of human rights, even though voicing his opinion has cost him friends, events and jobs in the past, he says.
"If I'm going to pay the price, I'm going to sing the song that I want to sing," he says. "It will not be somebody else's tune."
Black Lives Matter
Susan Knabe, who has taught courses about sexuality representation in the media and taught and researched AIDS and cultural production, says she thinks the biggest challenge for people who are "multipley minoritized" is how intersectional identities can conflict. Within the LGBTQ+ community, issues involving trans people, class, and anti-Black and anti-Indigenous racism need to be addressed.
"We don't move forward until everybody in our midst moves forward, and we haven't got there yet," says Knabe.
Stephen D'Amelio, newly elected to Pride London's Board, says they are discussing how the organization can support BIPOC (Black, Indigenous and People of Colour) members of the LGBTQ+ community. Board members are reaching out to different organizations and businesses to find new partners.
It's always important for Pride to be inclusive for BIPOC—not just this year, says D'Amelio. As a gay Black man, he is encouraged to see people across the spectrum support Black Lives Matter.
Pride London is looking at how to engage their membership, who are mostly white, and the Black community to ensure Pride London is a partner who is able to educate and be a part of the conversation.
"Overall, I think it's very important for our organization, not just because of its history and the fact that we're supposed to stand up for minorities everywhere," he says. "But also for the fact that for me personally, it really is about recognizing, empathizing, changing and educating."
Azzya was at London's Black Lives Matter rally last Saturday and said he supported the peaceful protest.
He wants the progress he has noticed in small social interactions with allies and police officers to show up in schools, laws, workplaces and the courthouse.
And he plans to keep advocating for change no matter how long it takes.
"I know God gave me a blessing, but he gave me a mouth and an opportunity to speak up."