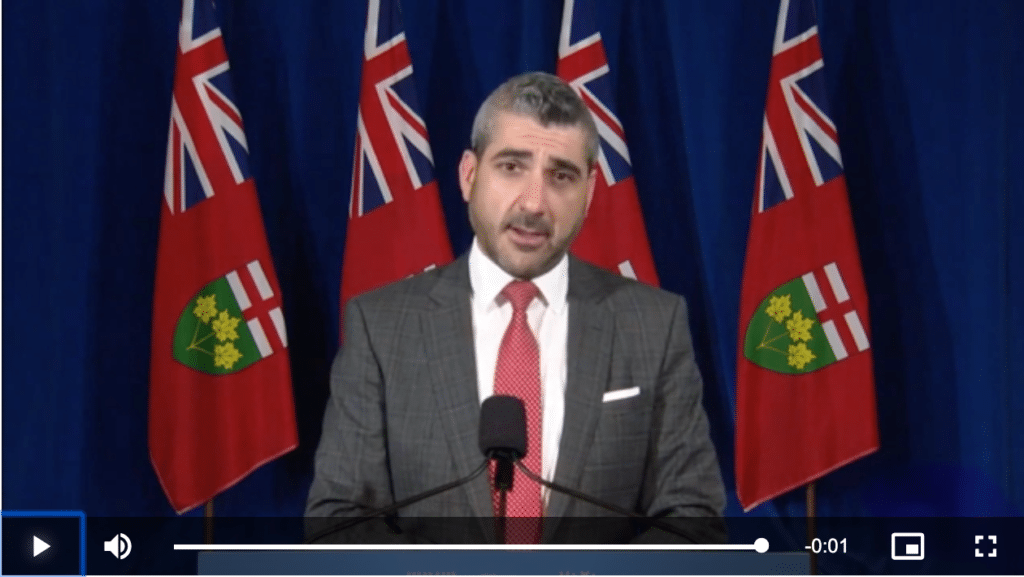 By Vicky Qiao
The province announced plans for reopening post-secondary education Wednesday, with some in-person classes scheduled to start in less than a month.
The limited summer reopening plan is aimed at helping students who should be graduating but have been unable to finish their studies due to COVID-19 closures, said Ontario's Minister of Colleges and Universities, Ross Romano, who made the announcement at Queen's Park.
"It's critical that we allow students to complete their studies and graduate so they can join the workforce in high-demand, frontline roles and help put the province back on the path to prosperity," Romano said.
The plan will also allow universities and colleges to prepare to reopen at their own pace within a framework, he said.
Romano was the only speaker at Wednesday's briefing, because Ontario Premier Doug Ford and Health Minister Christine Elliot were undergoing COVID-19 testing, a Ford spokesperson said.
The reopening plan will begin as early as July 2 and run throughout the summer, Romano said.
Upon reopening, schools will be expected to ensure safety protocols including social-distancing requirements, screening measures, as well as peer-to-peer monitoring.
Maggie Ma, a Master's student from iSchool at the University of Toronto, said her program hasn't confirmed how students will return in the fall, but courses will likely be conducted online.
"I think personally I am still quite concerned about having people back in the lecture rooms, but smaller scale meetings would be nice," Ma said. "I do prefer in-person lecture delivery, but I also do understand the risks of having everyone back on campus."
In a news release issued Wednesday, the Ontario government stated the reopening framework will serve to accommodate post-secondary students to develop new ways of learning and better prepare them for the needs of the labour markets.
Students from certain disciplines, including nursing and engineering, will be able to complete their practicums and in-class components required for the completion of their degrees.
Students in the courses that are reopening will return to their education through virtual learning, in-person classes, or hybrid formats.
"I will continue to collaborate with the post-secondary sector to determine how best to move forward on reopening our campuses in the fall and beyond in a way that is responsible and safe for our students and staff," Romano said.
When asked about possible layoffs and changes in school admissions, the minister said the province will learn more in the coming weeks regarding enrollment numbers. He highlighted that universities and colleges are not immune to the challenges faced by businesses across sectors.
More details of the reopening framework will be released over the next few days. Romano said the ministry will be working closely with post-secondary institutions to ensure the quality of education for students in Ontario.