By Adriana Vicic —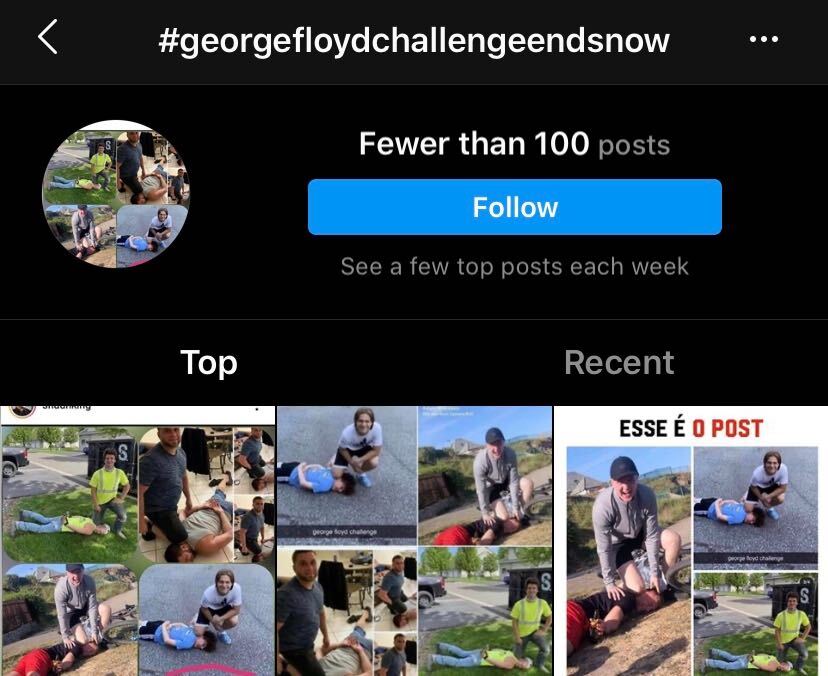 LONDON , ON— Still reeling from the killing of George Floyd, which has spurred anti-black racism protests worldwide, some black Canadians reacted with disgust —but not surprise — to an online challenge that made light of Floyd's death.
By the time social media websites began clamping down on the so-called "George Floyd Challenge," Thursday, pictures of white young men posing with their knees on each other's necks had already appeared online with the hashtag #georgefloydchallenge.
Floyd, who was black, died May 25 at 46 years old, after being arrested and held down for nearly nine minutes by white Minneapolis police officer Derek Chauvin, who had his knee on Floyd's neck.
"With everything that's going on, and what you take out of it is, 'Oh this is an opportunity to go viral, so I'll do a 'George Floyd Challenge,'" said Paul Okundaye, a black 23-year-old who shared the post on Facebook Thursday.
"It's almost like people are living in completely different worlds." Okundaye, who is a management consultant in Toronto, said he wasn't surprised to see the photos. He said they illustrate the apathy he sees in society.
"It's reflective of the unconscious bias and the way people are raised and socialized," said Okundaye.
"That stuff is learned. You can tell those families of those kids that are posting those 'challenges' are not having the same conversations that I am having with my friends about what's going on."
After users reported the 'challenge,' Instagram removed the original hashtag but kept up others that condemned the act, including #georgefloydchallengeendsnow and #georgefloydchallengeisdisgusting.
Some collages and screenshots of the images were still available on Facebook and Instagram, but only with captions that criticized the actions of participants.
Facebook announced that they were removing the posts due to a Community Standards violation, a spokesperson told New York Post. They said keeping up the images related to the hashtag could be looked at as "encouraging participation in a high-risk viral challenge."
Western University's Black Students' Association president Angie Antonio said she didn't want the disturbing images taken down right away.
Keeping the posts on social media while denouncing the sentiment of the 'challenge' might be a good learning experience for the white community, she said.
"Those people who are not racist and not saying anything, when they see things like this, it's like 'Whoa, people who look like me are actually making this a joke. People who look like me aren't actually seeing white privilege or seeing all of this stuff,'" she said.
"Keeping these images up will help a lot of other people see that this isn't just a problem with police — this is a problem with society. Period."