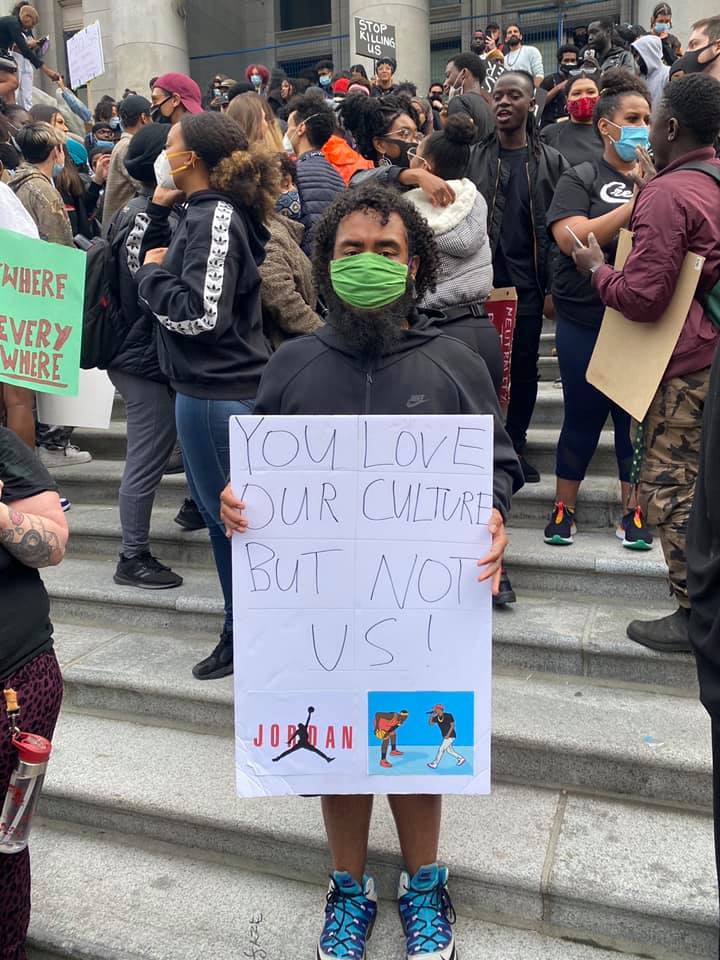 By Eva Zhu —
Youeal Abera says it's "scary" that he had to make a choice between joining a crowd of thousands during a global pandemic and staying home while black people continue to suffer the effects of systemic anti-black racism.
But in the wake of George Floyd's killing at the hands of a white police officer in Minneapolis, he knew he needed to be at the anti-black racism protest in front of the Vancouver Art Gallery, where he was a speaker at the event to support Black Lives Matter.
So he took precautions: he wore a face mask, carried hand sanitizer and refrained from hugging anybody.
"It's scary that I had to pick between risking my own life by getting coronavirus and risking not saying anything and watching more Black people die at the hands of people who swore to protect us," said Abera, who won't be attending the next protest planned for Friday because he is in a 14-day self isolation.
That's advice to follow according to public health officials across the country.
As more protests are planned to support Black Lives Matter across Canada and the U.S. this weekend, top doctors are advising people to take measures aimed at preventing the spread of COVID-19. Dr. Bonnie Henry, British Columbia's chief medical officer said the protest held last Sunday in front of the Vancouver Art Gallery posed a high risk for the spread of COVID-19.
Henry held a press conference to remind everyone that the maximum number of people at a gathering is still limited to 50. She also urged those who attended the protest on Sunday to check for symptoms of COVID-19.
"Those who were there, you may have put yourself at risk and you may bring that back to your home. You need to monitor yourself carefully over the next coming days to two weeks," said Dr. Henry.
Her words were echoed by Kelly Wilson, a Quality Consultant at Interior Health, who urged people attending protests to wear a mask, practice social distancing, avoid people who aren't wearing masks and wash their hands when possible.
"If you choose to attend [the protest], consider isolating for the incubation period (average of 5-7days but up to 14 days) and monitoring yourself for symptoms," said Wilson.
In London, Ontario where more than 1,000 are expected to attend a protest on Saturday, Medical Officer of Health Dr. Chris Mackie has advised people to self isolate for 14 days if they decide to participate.
Event organizers are also working to help protesters follow guidelines. Several online fundraisers have been launched to raise money for personal protective equipment (PPE) to be distributed at the protests.
Throughout last Sunday's event in Vancouver, organizers handed out disposable face masks, gloves and hand sanitizer, while constantly reminding participants to distance themselves from others.
After every speaker, including Abera, the megaphone was wiped down to avoid possible spread of COVID-19, he said.
"The Black organizers are very aware that even though we have a vehement need and desire to protest, we are still in a global public health pandemic," said Abera.