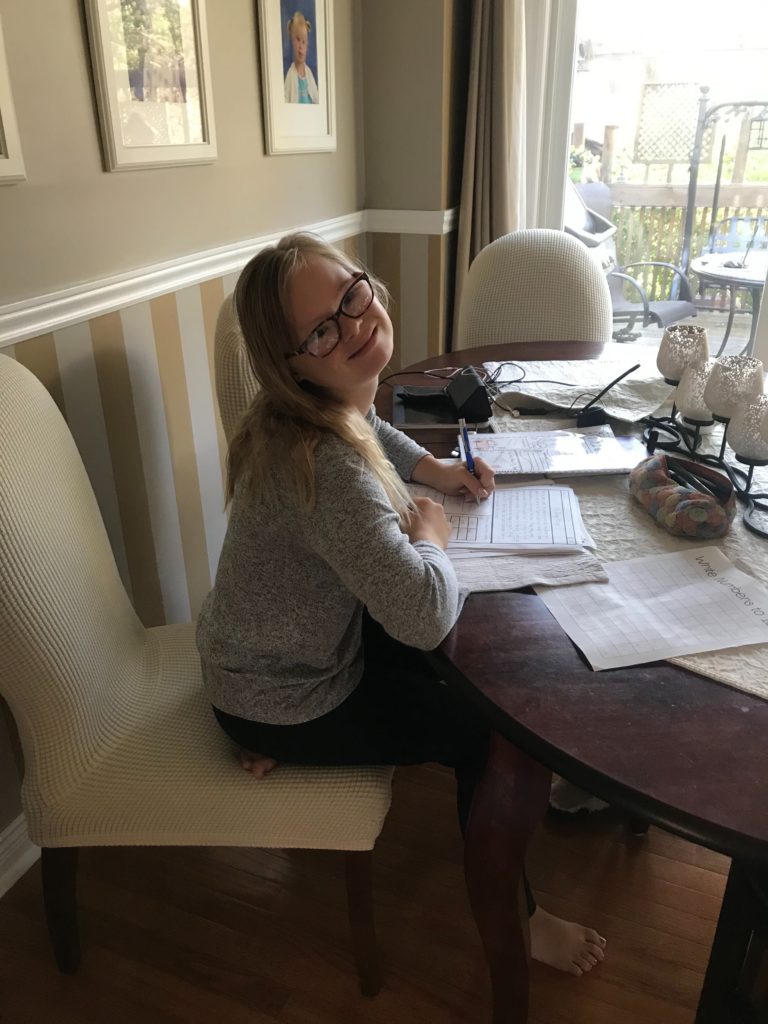 By Adriana Vicic —
Normally, Emily Brunka works as a server in Toronto. But since schools closed in March, she has been a tutor for her younger sister Ela, 14, who has Down Syndrome.
"It's hard because it wasn't something I was ever trained on," she says. "And at school they have those tools and counting blocks and things like that, which obviously can be more helpful for teaching children. But we make it work."
Some days are easier than others. On the difficult days, after an hour of working together in their Mississauga home, Emily can usually sense her sister getting bored and frustrated, and she knows they are hitting a wall.
"I'll ask Ela, 'do you want to go do a dance break?'" she says. But sometimes it's too late and the younger sibling will "toss her pencil like 'I need a break' and just walk away.'"
May 31 to June 6 2020 is National Accessibility Week.
Under normal circumstances, this week is a time to acknowledge and celebrate the efforts made to remove barriers to accessibility and inclusion. But with schools in Ontario closed due to COVID-19, remote learning has created new barriers for students with disabilities.
As students like Ela struggle to work remotely without the support of specialized teachers, the chair of a provincial accessibility group is calling for Ontario's Doug Ford's government to put in measures to support students with disabilities, especially during the time of COVID-19.
"Everything is designed for the average student and then students with disabilities are an afterthought," says David Lepofsky of the Accessibility for Ontarians with Disabilities Act (AODA) Alliance.
"These are weeks where you would hope governments would use these as an opportunity for doing something new and that they would have major accomplishments to showcase. Sadly, neither is true."
Earlier this month, the Ontario Government announced it was committed to an "inclusive online learning program," but Lepofsky says that isn't enough.
Lepofsky says the Province has failed to recognize students with disabilities and build an accessible curriculum. Even before COVID-19 hit, there were barriers for students with disabilities, he says. The pandemic has amplified them.
This is especially noticeable with digital learning, because many electronic materials remain inaccessible, he says.
Educators are working to address the new challenges that online learning present to students with disabilities, says Rada Mihajlovic, an itinerant teacher for autism in the Peel District School Board.
"We are looking to find the solutions—the system was not meant to be distanced learning," she says. "The support that we are providing for learners with various disabilities was actually meant to be face to face combined with the use of a variety of assistive tools, many of them related to assisted technology, but they would always have a human element as part of the support, which is now missing."
Mihajlovic says she agrees that the whole learning process now is on the shoulders of the family, who must facilitate the distanced learning.Meanwhile, although Brunka is challenged daily, she says she is grateful for the time she gets to spend with her sister in this unique environment.
"It's a really special thing to sit there and see her learn something and understand something. I think that's such a rewarding thing for you to see—to look at your little sibling and say, 'Oh my god, you're so smart, you don't even need my help.'
"I get so proud of her."