By Monika Sidhu
On May 30, thousands gathered for the first protest in honour of Regis Korchinski-Paquet who fell to her death from a Toronto balcony while police were in her apartment three days earlier. There have been many protests since, including Remember the 400 on June 13, a sit-in organized by Not Another Black Life in front of police headquarters on Juneteenth, a Black Lives Matter protest beginning at Ryerson University on July 18, and a March for Black Students on Aug. 3. Toronto continues to demand a change from its governing bodies when it comes to anti-Black racism.
Policy analyst Brittany Andrew-Amofah said she believes the city of Toronto—the city she loves and the city she grew up in—has the ability to do better when it comes to anti-Black racism.
"Ultimately, it's about addressing systemic anti-Black racism, and providing Black people access to equal opportunities in order to thrive…the city has a chance to course correct and doing so sooner than later before more damage is done and lives are lost is best."

Brittany Andrew-Amofah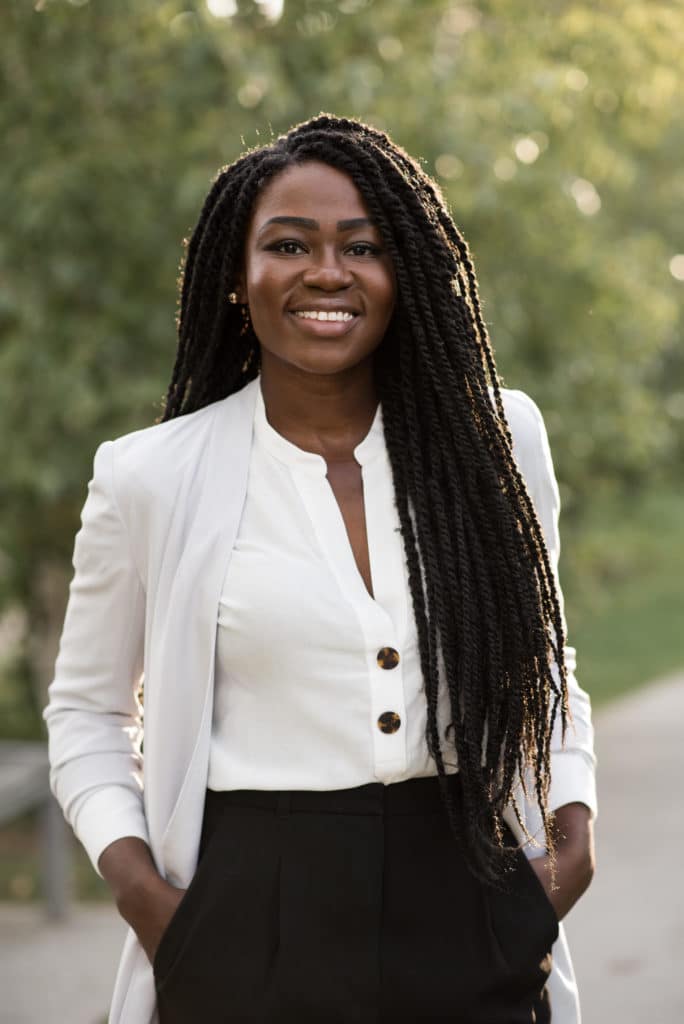 Now a policy researcher and media commentator on issues including how government decisions impact systemic racism, Brittany Andrew-Amofah said growing up in a vulnerable Toronto neighbourhood "plagued with gun violence" continues to inspire her work.
It inspires her to call for cities to include voices of people from the most vulnerable Black communities in big conversations about issues such as "defunding the police."
Those communities are not typically consulted about the role policing plays in their neighbourhood and that needs to change, she said.
"We don't hear that particular Black experience in mainstream conversation and political discourse," said Andrew-Amofah, who works at the Toronto-based Broadbent Institute, where her work includes a 2019 piece that offers bold policy proposals in fighting anti-Black racism in Canada.
Before she became a policy researcher, Andrew-Amofah grew up in social housing. Early in her professional life she worked in community services including a homeless shelter in East Scarborough. Through her life and work, she saw how Toronto's disconnected municipal service delivery system creates gaps that disproportionately affect Black, Indigenous and people of colour (BIPOC) and marginalized people.
It became increasingly clear to Andrew-Amofah that high-level government decisions often had a direct impact on the people she was trying to support. Determined to find out where the system was going wrong and make change on a political level, she got her master's degree in Political Management at Carleton University.
Some ways she has been calling for a better system is through intergovernmental cooperation, the inclusion of Black voices in policy decisions, and saying marginalized and racialized communities need to be at the forefront of policy change conversations.
Since the May 25 death of George Floyd at the hands of a white police officer in Minneapolis, there have been global protests and calls for action on anti-Black racism. Two days after Floyd's death, a Toronto woman, Regis Korchinski-Paquet, died during a wellness check by the Toronto Police, causing further hurt within the city. Andrew-Amofah said she believes we are in a moment where tragedies such as this will have a different impact on policy than before, though there hasn't been much as of yet.
"We are in a particular moment where there's no excuse to not be taking action and there hasn't been anything substantial in terms of the framework that I operate from," she said.
"Ultimately, it's about addressing systemic anti-Black racism, and providing Black people access to equal opportunities in order to thrive…the city has a chance to course correct and doing so sooner than later before more damage is done and lives are lost is best."
Andrew-Amofah also hopes to educate people surrounding the conversation of "defunding the police." She said she supports "divesting" tax dollars from the Toronto Police.
"Police respond to too many things."
She said money should be invested towards housing, social services, community programs and health programs—all areas where Black people are overrepresented and underserved. She also said there needs to be substantial change within the RCMP who have jurisdiction mostly where Indigenous peoples live and are policed.
Part of that conversation includes looking at tax revenue spending.
Andrew-Amofah said there should be conversations about allocating a portion of the federal government money provinces receive toward improving outcomes for the Black community and racialized people at large.
Her policy work also expands to research into COVID-19 regulations and government financial assistance programs such as the Canadian Employment Relief Benefit (CERB). These also must be considered with Black and other racialized people in mind, as they are the most vulnerable population to COVID-19 in Toronto.
Andrew-Amofah also has an Instagram TV segment with Flare magazine called "Brittany Breaks It Down," where she explains COVID-19 restrictions and recommendations. She is a regular contributor on media, university and government panels to discuss policy impacts.
Andrew-Amofah said she continues to do policy work because she believes Toronto can reach its full potential.
"When I say full potential, giving anybody who lives here a chance and an opportunity to live a good, decent, fair and just life."
City:
– Adopt Frank Iacobucci's 84 recommendations to reduce fatal encounters with people in emotional distress
– Acknowledge anti-Black racism and white privilege in governance and policing
City's response:
– City Council approved reports about policing to implement better community resources, such as alternative responses for mental health crises
– City Council called for anti-Black racism training for council members and their immediate staff
– City will continue with the Confronting Anti-Black Racism Unit, developed in 2017
"I would say we're moving forward in the right direction. We have a long way to go and I think the need for change is such that we can also afford to move with an even greater sense of urgency than we already are."

Anthony Morgan, manager of the Confronting Anti-Black Racism Unit.
Police:
– Defund the Toronto Police Services by 10 per cent
-Stop the increased militarization of police forces
– Charge subject officers who kill civilians and confirm they no longer work the streets
– Apologize publicly to the families whose loved ones have been killed and to the broader community
Police's response:
– Toronto police officers will get body cameras, which will cost an additional $50 million over the next 10 years
– Toronto Police Services Board began a series of virtual townhalls, so the public could offer suggestions for change in TPS

School Boards:
– Create a Toronto District School Board (TDSB) policy ensuring that uniform codes and practices do not violate the human rights of students
– Apologize publicly to children and families who have experienced abuse or violence from police officers on school property
– Create a community healing space for Black-identified students in TDSB schools who have experienced anti-racist violence or harassment by staff and administration
School Boards' response:
– The Toronto District School Board (TDSB) recognized that anti-Black racism is "deeply entrenched" in Canadian institutions
– The TDSB announced it would implement a Centre of Excellence for Black Student Achievement, which has been in the works for two years and is expected to have 20.5 staff positions, including a social worker and youth councillor