By Hayley Tubrett
On June 6, 2020, about 10,000 people turned out to a Black Lives Matter rally at Victoria Park. Organized by five teenagers, the event was reported to be the largest rally in London's history. On June 20, 1,000 people attended a second rally.
Alexandra Kane has been the spokesperson for the Black Lives Matter movement in London this past summer. For the past few years, she has been active in promoting anti-racism efforts in London and strives to create a better future for her son. Born in Toronto but raised in Florida, she attended Western University to study music. She is the creative director at London's AK Arts Academy, which provides music, acting and dance lessons for students of any age.
"The beautiful thing about this movement is that it's a united voice. It's loud and it speaks volumes, and people have no choice but to listen and take action."

Alexandra Kane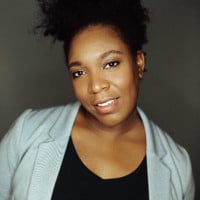 Alexandra Kane has been an activist for anti-racism long before the Black Lives Matter movement surged in London this summer.
She's been vocal on the Forest City London Music Awards board about advocating for people and musicians of colour. But she said it's been a difficult task because Black people are often the only ones voicing these concerns.
"It's been unfair this whole time and we're just trying to make it so our children and our future are better," she said.
Kane came back to Canada to study at Western University. She is hoping the Black Lives Matter movement this summer will impact Londoners young and old.
"The beautiful thing about this movement is that it's a united voice. It's loud and it speaks volumes, and people have no choice but to listen and take action."
Kane's one-year-old son is one of the reasons why she fights to make a better and more equitable society. She said that from her own experience growing up as a Black person, she knows what it's like to be treated unequally. After living with trauma for so long, she said it's time to no longer accept systemic laws that keep Black people oppressed.
A prominent demand from the Black Lives Matter movement in London is geared at the education system and calls for students, teachers and school staff members to be educated on the history of racism and anti-racism efforts. But Kane said that doing a general anti-racism training course for teachers on a weekend just isn't enough anymore.
"Racism is a cancer. When you go in to see a doctor, they do all these tests to diagnose what type of cancer you have. They don't just give you chemotherapy as a blanket fix," she said. "I think yes, it's good that they're applying the anti-racism training, but what type of racism are you treating? Is it implicit biases? Is it colourism? Is it the overt racism? What are you treating?" she said.
"I think as a community we're just voicing our fear, our unhappiness—pleading for our lives. I've talked to some people and they're like, 'Why are you being so dramatic, why are you saying it's about your life?' This is because police are actively killing people of colour and not being held accountable, so that is giving them permission to continue to kill."
Kane argued that there needs to be a more in-depth process of how school boards and other institutions and services in London are going to fix the problem. It's hard to say what an exact fix would be, but she said all the Black Lives Matter demands are important and work together for the betterment of the community as a whole.
"I think we just have to keep sounding the alarm and keep showing these examples and keep talking about it and keep pleading for people to know and understand."
City:
– Address issues that impact the Black community, including the lack of diversity in City Hall.
– Reduce the police budget and put savings into anti-racism, housing and mental health programs.
– Dedicate more money to education on Black Lives Matter.
City's response:
– City council acknowledged systemic racism exists in London.
– Council unanimously voted to move to the next stage of their anti-racism plan, which is to prioritize anti-racism in various city services.
Police:
– Publicize the cost of police surveillance in Black, Indigenous and racialized communities.
– Stop surveilling, ticketing and displacing homeless people.
– Stop involving police at high-density BIPOC events and surveilling BIPOC communities—understand that over-surveillance is a human rights violation that leads to over-incarceration.
Police's response:
– The London Police Services Board (LPSB) directed Chief Steve Williams to look for ways to cut their budget.
– The LPSB has publicly acknowledged racism is part of policing and vowed to do better.
– The London Police Service (LPS) held a strategy session to discuss options to meaningfully engage the public on anti-racism issues.
"What we're really trying to focus on is the education and awareness. Just sensitizing our members to the fact that we may have certain experiences and see the world through a certain lens. We need to be aware of that and to behave accordingly."

Chief Steve Williams
School Boards:
– End the school (police) resource officer program and reallocate money toward food security programs in every school.
– Incorporate Black and Indigenous history into the required curriculum and make anti-racism education mandatory for staff and students.
– Hire more Black and Indigenous mental health professionals in schools.
School Boards' response:
– TVDSB pledged to "do better" to combat racism. – The board created a "thought exchange" for parents to give their input on anti-racism actions.
– TVDSB approved a motion to implement anti-racism training and improve staff diversity.